Overview
We help our customers design, develop and manage threat management programs, including: managing threats through our vulnerability management framework, advising on open source security risks and compliance using software composition analysis, assessing and mitigating advanced persistent threats through advanced technology services and evaluating people risk using Phishnix.
Aujas Services
We help clients protect their data, manage security and vulnerabilities. We also help govern risk and compliance programs. We offer the following services:
VMS Framework & Strategy
Design comprehensive vulnerability management frameworks, including policies, procedures and technology strategy
read more
Today, individuals expect to be able to use any device to access any application, from anywhere around the world. This opens a company's technologies and applications to many vulnerabilities. We help clients establish their vulnerability management framework, policy and processes, and then help them manage vulnerabilities by using our lifecycle approach. Our certified and trained professionals work with client teams from identification to closure of vulnerabilities and then by provide expert remediation support to close identified vulnerabilities.
---
Application Security Advisory
Advisory services to build secure applications from scratch, SDLC Gap Analysis, Threat Modeling, etc.
read more
We help organizations identify and protect application data by building a security framework, security design patterns, and then secure development of respective controls within the application. Aujas certified professionals work with the client development team from the requirement phase all the way through to the production phase.
---
Cloud Security Strategy
Security strategy design for cloud adaption with providers such as AWS(Amazon) & Azure(MS)
read more
The Cloud is ushering a new era of computing with powerful technologies used to deliver convenient solutions cost-effectively and hassle-free around the world. While there are significant benefits of moving to the cloud, there are significant challenges too. Security and information risk are the biggest obstacles to cloud adoption.
Cloud applications require special design and development practices to mitigate security and information risk. With the cloud, the policies for data protection need to change drastically. We help clients build secure cloud applications and services. We have helped enterprises and government clients with technical cloud security solutions, as well as process frameworks to ensure cloud security and appropriate risk management for cloud initiatives.
Aujas cloud security advisory services assist organizations with developing effective cloud security governance, operations strategy, and tactical processes.
Cloud security is not a one step process; it is a constant innovation across various business needs. It is essential to constantly build new methods to overcome traditional security issues. New innovations can enable the easy and secure usage within a thriving ecosystem. The Aujas secure release program designed for cloud adopts the new approach and use the new technologies to help secure applications, enabling B2B and mobility based solutions.
---
Enterprise mobility Strategy
Control framework & solution design for enterprise mobility enablement
read more
Bring Your Own Device or "BYOD" refers to a company policy under which employees is allowed to bring their own laptop, smart phone or tablet to work and use it to access the company's privileged applications and data to complete his or her daily activities. BYOD programs allow employees to be flexible about where and when they work. In fact, an IBM study reported that 80% of employee thinks BYOD plays critical role in business. With such positive figures, it is hard for companies to avoid employees using their own tablets or mobile phones to conduct business.
These devices, however, also pose security risks for a company. If it is lost or stolen, weak device security may result in unintended access to private or sensitive applications and data. So it is essential to plan for BYOD implementation to avoid security breaches and other issues. Aujas offers a robust BYOD solution from conception to implementation and maintenance of the BYOD program.
The Aujas secure BYOD approach offers the following:
Strategic consulting services for the BYOD initiative
Solution aligned to business requirements
Secure BYOD through our Securing People, Process and Technology model
Integrated Mobile Device Management and management of all mobile device, applications, and security configurations
Program monitoring and sustenance
Secure development for program customization and enhancements
---
Advanced Security Testing Services
Application static analysis (SAST) - for Cloud/Web/Mobile/Standalone.
Application dynamic analysis (DAST) - for Cloud/Web/Mobile/Standalone.
Network penetration testing.
Wireless security testing Compliance assessment (eg. PCI penetration testing).
read more
We help our clients identify vulnerabilities in applications which are built on the latest technologies or languages such as Web 2.0, HTML5, Web sockets, JSON, Ruby, etc. We utilize various tools including black box, gray box, and white box (security code review) approaches.
---
Technology Implementations
Deployment and implementation of IBM Appscan, Palamida, Content Lock, Phisnix(Social Engineering), SAVP (VI), Enterprise mobility solutions, etc
---
Software Composition Analysis (Open Source Compliance)
Assess software to identify IP violation related to the use of open source software in development
read more
We enable organizations to use and reuse code from many sources – and do so while reducing the risk of license violations, software vulnerabilities, and export control violations. We work with Palamida to scan source and binary materials and produce an inventory of software components used – a software bill of materials. We then flag issues that are exceptions to the client's policy, enabling the client to effectively manage and secure open source and other third-party code.Read More
---
VMS Program Management
Managing the day to day operations of vulnerabilities management system
read more
We help our customers evaluate if there are any vulnerabilities that can lead to APT attacks (proactive assessment). We can also detect if malware or rootkits are already deployed in environments which could be uploading sensitive data to third party servers without the client's IT monitoring team's knowledge. We work with our clients to devise APT risk mitigation strategies to counter APT attacks.
---
Cloud Security Sustenance
Sustenance services for cloud controls in software and functionality form providers
---
Application Security Program Management
Application risk profiling
Application security assessment
Remediation guidance (support)
Threat management portal dashboard
Case Studies
threat-management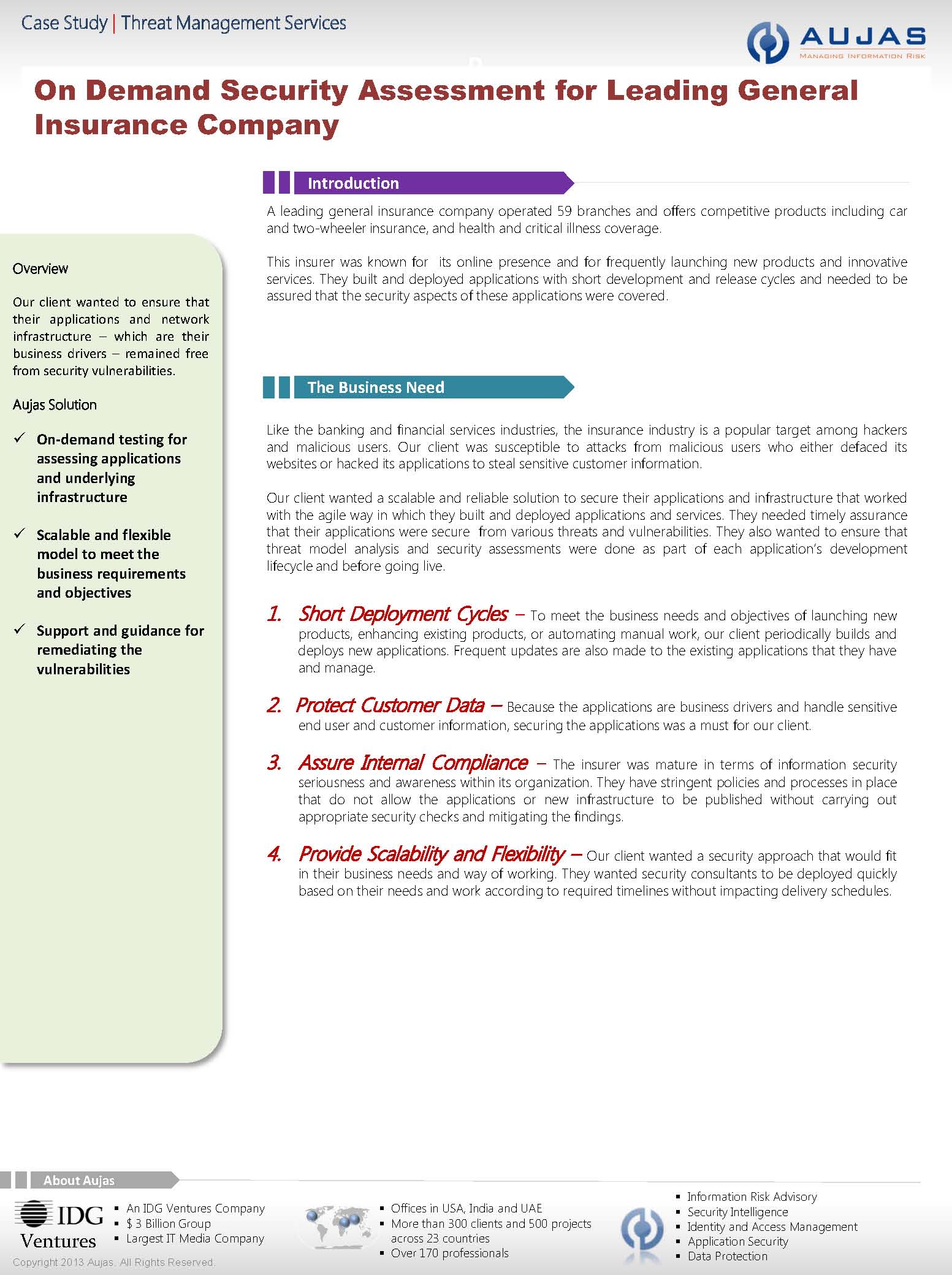 On Demand Security Assessment for Leading General Insurance Company
A leading general insurance company operated 59 branches and offers competitive products including car and two-wheeler insurance, and health and critical illness coverage.
This insurer was known for its online presence and for frequently launching new products and innovative services. They built and deployed applications with short development and release cycles and needed to be assured that the security aspects of these applications were covered.
read more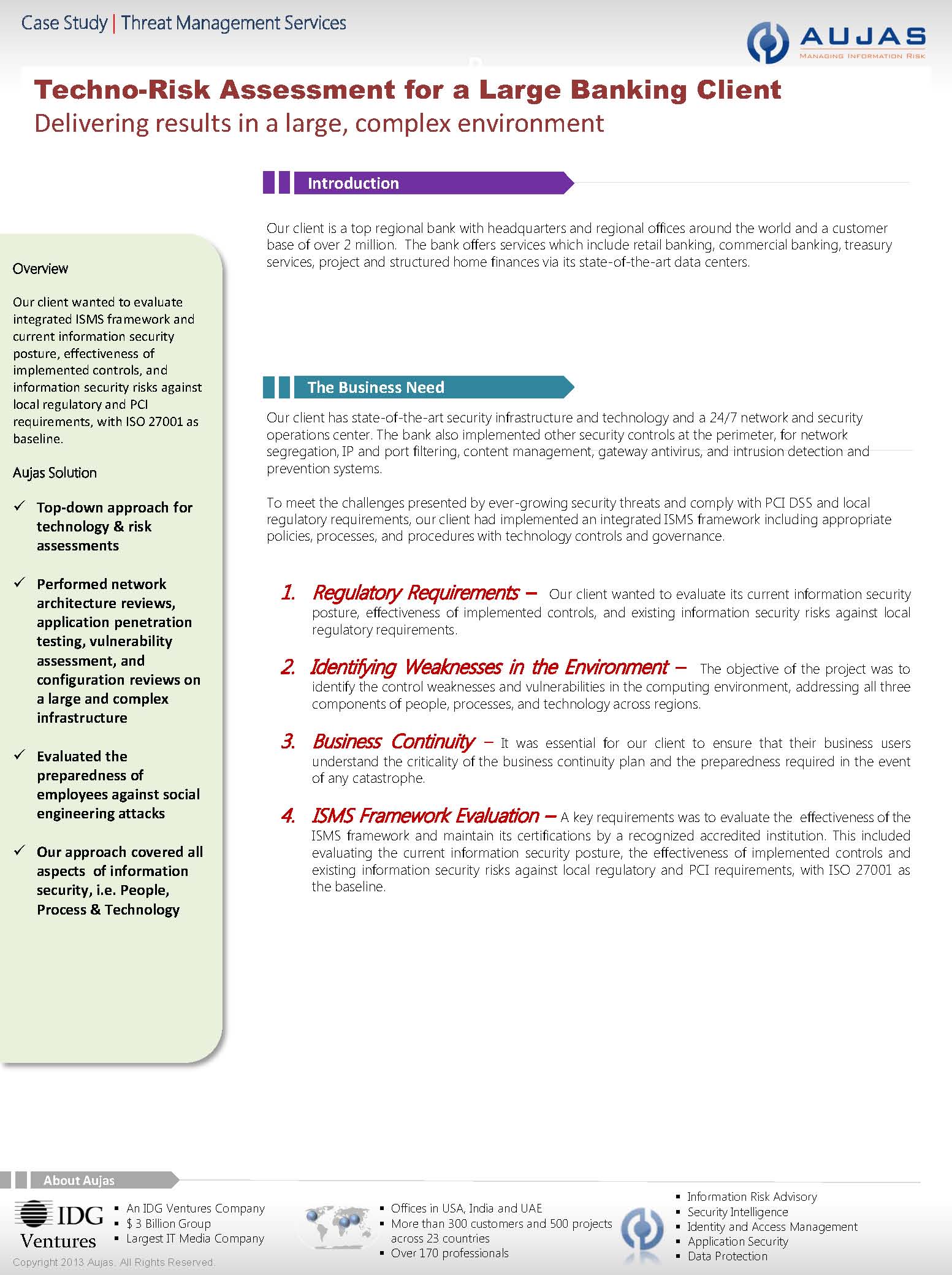 Techno Risk Assessment for Large Banking Client
Our client is a top regional bank with headquarters and regional offices around the world and a customer base of over 2 million. The bank offers services which include retail banking, commercial banking, treasury services, project and structured home finances via its state-of-the-art data centers.
read more