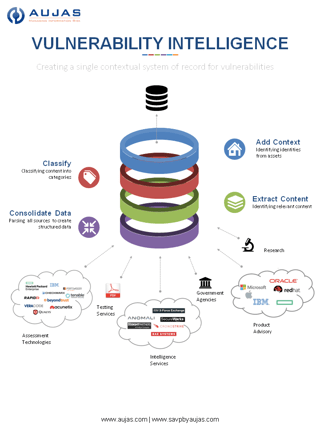 Vulnerability Intelligence
46 days: Time to identify and fix a vulnerability.
1.5 million: Cost of a cyber attack.
You can beat it with Vulnerability Intelligence using Aujas Security Analytics & Visualization Platform (SAVP).
Empower your Security and Product teams to better respond to Cyber Attacks. Our NLP driven advanced machine learning algorithms gives you the power of Vulnerability Intelligence.
SAVP uses advanced machine learning, NLP and clustering algorithms to learn your environment and bring personalized actionable vulnerability intelligence to you.
Enhanced Product Security Response - Our intelligence bots pro-actively alert you on the security vulnerabilities, risk exposure and impact on each of your products, based on library composition.
Transform the way your team manages vulnerabilities with the power of vulnerability intelligence, asset learning, fully compatible BPMN 2.0 work-flow engine, personalization and security.
The platform can run automated work-flows, make decisions based on pre-defined SLAs and manage internal state of vulnerabilities.
SAVP acts as an extension of your team, improves tracking and enables a metrics approach to security.
SAVP's bot network monitors the Internet for vulnerabilities that could impact the organization, while internally it acts as an extension of your cyber security team in handling and driving day-to-day tasks. It not only improves your team's ability to address upcoming threats, but also frees up their time to innovate and plan.
Know More? - Please provide your details by filling the form to download the complete data sheet.